Zoe Barnes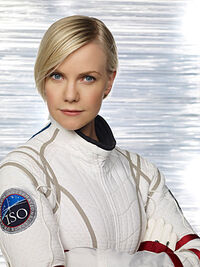 Profession
Astronaut / Geologist

Zoe "Z" Barnes is a character on Defying Gravity portrayed by Laura Harris.
Biography
Edit
Zoe took part in the training program for the Flight of the Antares. During this time, she had a short relationship with Maddux Donner. Both believing that Donner had had a vasectomy, they had unprotected sex resulting in a pregnancy. To remain in the Antares program Zoe had no choice to have an abortion, which was illegal at the time.
Zoe was selected as the Antares crew-member to walk on Venus. ("Déjà Vu") The Crossbow lander, piloted by Maddux Donner, missed its landing mark by several hundred feet due to severe crosswinds. As a result, the object known as "Gamma" was deemed too far away to retrieve because Zoe's Venus suit was only certified to withstand Venus' atmosphere for a maximum of twenty minutes. However, upon leaving the lander, Zoe began hallucinating. Hearing a crying baby, she began walking towards the noise. Despite constant pleas from her fellow Antares crew-members, Zoe did not return to the Crossbow. Upon reaching Gamma, Zoe saw only "her" baby and had already been on Venus for twenty minutes. Hallucinating heavily as she struggled back to the lander, Zoe referred to Gamma as "our baby" during a conversation with Donner, finally, unintentionally, revealing the truth behind her hallucinations. Learning this, Donner refused outright to leave Zoe on the planet and began looking for ways to safely prolong Crossbow's exposure to Venus. Only feet from the lander, Zoe's Venus suit failed at her right arm. Atmosphere seeped in and the temperature inside the suit quickly rose to over 90 degrees centigrade. She was able to make it into the lander with Gamma, however she had fallen unconscious by the time the lander had returned to the Antares. ("Kiss")
Zoe was quickly pulled from her suit and brought directly to the infirmary by Dr. Mintz and Jen Crane. Unfortunately, Mintz discovered that Zoe had suffered second and third degree burns to most of her body. He believed Zoe should not have survived, but speculated that the recent changes to the crew's genomes were the reason for her survival ("Kiss")
Ad blocker interference detected!
Wikia is a free-to-use site that makes money from advertising. We have a modified experience for viewers using ad blockers

Wikia is not accessible if you've made further modifications. Remove the custom ad blocker rule(s) and the page will load as expected.